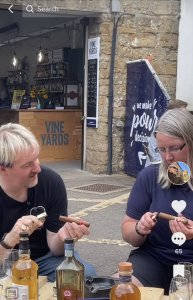 A smoking hot whisky & cigar sampling  w/ Jason (TikTok cigar legend @gravedodger)
13th August 3pm-7pm ish
2 x fine whiskies
2 x hand-rolled, Cuban cigars (Montecristo No.3 2020 and a vintage (yes, vintage) Montecristo No.3 from 2001!)
A first of its kind event for Vineyards, we've invited Jason @gravedodger to Vineyards to co-host a rather fine whisky & cigar sampling. Some of you may recognise Jason from social media, where his smoke-umentaries has taken TikTok by storm. If not, then you are in for a treat as he really knows his stuff when it comes to cigars. Hannah will be at the helm of the whiskies for this event and together you will explore the fine art of partnering a premium cigar with a stonking glass of Scotch.
It's a masterclass that'll go up in smoke and down in Vineyards history.
Reservations only & very limited.
£75 (includes 2 x 25ml whiskies and 2 x full sized Montecristo cigars, one being a vintage)
Limited Availability & Reservations Only!
If you want to book and share the whiskies/cigars that is absolutely fine, just let us know at time of booking.
MAKE A RESERVATION VIA OUR CONTACT US PAGE
Please note: – As the Government warns, smoking can cause dangerous health complications.