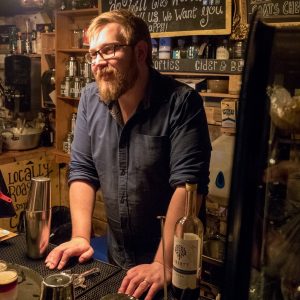 Cocktails fit for a queen
2nd June 1pm-9pm
We're celebrating the Queen's Platinum Jubilee by rolling out the red carpet for some first class cocktails with a royal twist – pass the Dubonnet Ma'am. Lloyd Brown from Dark Bear will be behind our bar on Bank Holiday Thursday (you have the day off, we've checked!) between 1pm – 9pm and it's going to be a platinum affair. On top of a rather special wine and spirits list from us, Lloyd will be putting together a majestic menu of cocktails.
Reservations only, tables can be booked for 2-hour time slots. Who knows the Queen may even pop in for a glass herself? Her Majesty has been to Sherborne before…
No ticket price, just pay as you go as usual from the drinks menu.
Limited Availability & Reservations Only!
MAKE A RESERVATION VIA OUR CONTACT US PAGE
A little bit about Lloyd:
When you say cocktails in Dorset, the first name that usually pops up shortly afterwards is Lloyd Brown, our very talented mixologist mate who knows all that's worth knowing about spirits. He's does a really enjoyable shindig. We're certain it will be another sell out – it always is with Lloyd and deservedly so!