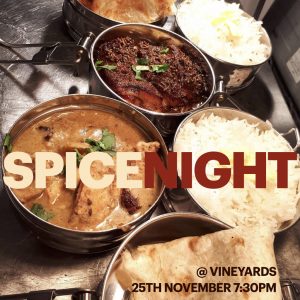 The very lovely and talented Khrish will take pre-orders of your food for the night from her mouth-watering menu and serve it in stainless steel tiffin boxes to enjoy at your table in our spangly new Wine Lounge, upstairs at Vineyards – it's like a takeaway at ours! We'll make sure that the perfect drinks are a'flowing and before you know it, you'll be wondering why you don't do something like this more often, which, as you mention it, you can – we're making pop up foodie nights a 'thing' in our new space.
Join us for our first night of great food, great wine and alright company! 😉
Limited Availability & Reservations Only!
See The Alternative Indian Set Menu